Photography 105: Night Time Photography Tips for Beginner
One of the most searched tips photo enthusiasts look online is night time photography tips for beginners. The main reason is the scarcity of light in night which makes your snap blur or dark. Commonly most of the beginners depends on sunlight for quality photos. And when the darkness spreads their level of confidence reduces with it.
But only a few tips can increase your confidence level on night photography. Though there are lots of tips scattered online, we've gathered the most important and most common tips for every types of night photography. And we've arranged them in such a way that nobody needs to be an expert to understand these tips. Before we proceed, we hope that you already bought a camera yourself. If not then you may check some reviews here to get a new one! Now, let's sign into the main discussion.
Maintain Appropriate Shutter Speed
As you'll get less light in night, so you must open your camera until sufficient light enter into it. Technically it means you must possess higher shutter speed in your camera setting in order to get clear picture in night. But if you want to take photos without light trails you must set higher shutter speed to avoid the lights inside the darkness.
For medium darkness with medium light spots maintain moderate shutter speed. But for beginner, we'll recommend start from an edge of with or without light trails. For sports photography in night shutter speed must be faster whether it is with light trails or without light trails.
Set the Proper ISO
As you are giving your shutter to collect more light particles so you must stop your photo sensors to be more sensitive. Unless the photo will burn due to excessive light particle. But for the photos without light trails you can enhance your ISO to larger one because in that case a very little amount of light particle will hit your sensor. So, your camera sensor needs to be more sensitive & receptive.
Use Tripod
So, your main target is getting maximum light into your sensor and that's why you are taking photos in less shutter speed. The best way is taking shots for 1-30 seconds which is too long time to hold the camera steadily by your hand. That's why the best way of avoiding all types of shake is using a good tripod. Even don't touch your camera. Wait for a handsome interval & then check the photo.
The more you'll be patient, the more quality photo you'll get. There are different types of tripod. Among the types choose at least 2 tripods those can merge your ranges from smaller to a larger value. And check if they've default remote or not. The models which will include a default remote with it, try to go for those models.
Use Remote for Capture
Referring to the previous point we are suggesting you to use a remote because a short bump of your camera can destroy your total photo. A silly touch may clutter the total snap or add unavoidable noise. And that's why you if you want to take night photos with light trails wait for the best moment & press the remote for taking your best shot. You can use both wireless and wired remote. There is no particular suggestion. But whatever you use, just don't move. Keep steady, keep calm & shoot your best.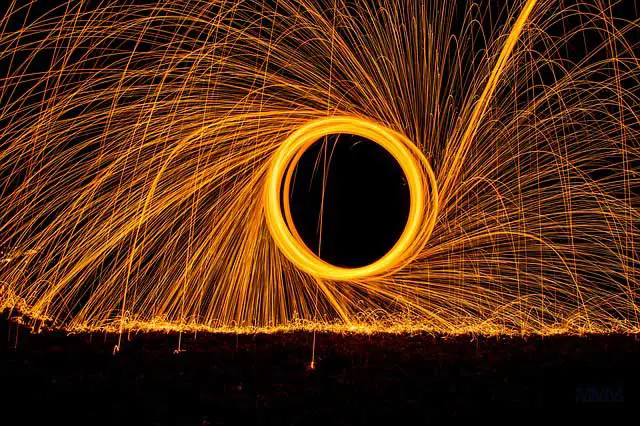 Use the Sweet Spot of Lens
Most of the time amateur photographers use maximum or minimum exposure to get the highest quality photo. But for your kind information the best rated cameras are even sometimes don't perform better in their maximum & minimum aperture value. So, find the sweet spot of your lens. Usually it lies between f/8 & f/16. But our suggestion will be taking some test snaps between this focal length & then fix that value which gives you the perfect photo.
Set the Camera at Raw Mode
The best expandable & information mode of a photo is raw mode. You can change the raw images smoothly by any adobe software. That's why our suggestion will be changing your camera to raw mode & then capturing the photo. In that case if you need any changes, then you can do it flexibly. The jpeg photos are also smoothly editable. But raw modes are better & may be the best mode of opening a file for detailed editing.
Our recommended editing mode is 'Camera Raw Mode' in Adobe Photoshop. Most of the time I edit with this mode. In addition, I also use Adobe Lightroom for photo editing. But for night photography using camera raw mode is highly recommended because you may need to change a lot on your photo. And in case of bigger changes Lightroom is very weak.
Consider Photographic Ambiance
According to some photographers it might be the first tip as the place selection affects the whole settings & preparation. But still we are mentioning this tips now is because the previous tips are common for almost every ambiance. And if you are prepared for the above six tips then look for a good place which contain mesmerizing objects. And if you find one, then choose a central object that you want to focus. Then compose your own ambiance taking the necessary objects around your central objects.
Good photographers always try to create a story with the total ambiance. As a result the photo directly hits to viewers mind. And night is the best time to compose a hypnotizing ambiance. A photo full of mono-chromic & multi-color lights with sharp spectrum can be more fascinating than daylight photography. So in a nutshell, first choose an awesome ambiance and then compose another ambiance inside that ambiance. That's it.
Conclusion
I've already said above that you'll get different types of suggestions from different photographers on night & natural photography. But the 5 tips I discussed above is the most common and popular tips those are necessary for every photographers. So, first check for this tips. Then if you get any other practical tips from your fellow photographers merge with these tips & finally mix your own flavor. Then with full confidence capture the snap & be a proud photographer.