Best Camera Under 100 Bucks | Yay or Nay?
Pictures are more than just memories on paper. On many occasions, they are feelings, smiles behind these pictures. Because of that, you may want to have a good camera so that you can revive these happy events in the future.
Professional cameras are pretty expensive, but in many cases buying a cheap but reliable model is a better option. But with so many cheap but good cameras out there, it may be a bit difficult finding the best one for you.
But don't worry! We will help you find the best camera under 100 bucks for that family trip of yours!
Is Buying a Cheap Camera Any Good?
If you are trying to purchase a cheap camera, you should know that there are specific pros and cons to this.
People often opt for a more affordable camera because they know that they will use it a few times before they store it again. Besides, some cheap cameras are as good as some of the most expensive ones.
If you choose wisely, you may find yourself a camera that will work correctly in almost any scenario. The best and the most affordable cameras are durable, but they are also able to take clear pictures without much effort.
Plus, you could find some cheap models that already include some exciting accessories. The thing is, if you don't choose your camera carefully, you may find them to have some problems.
First, you should check if the lens is not so prone to scratches. Another thing you should notice is the material the camera exterior is made of since this will determine how durable it will be.
Our Picks: Best Cameras Under 100
This is the part you are waiting for; the actual product reviews. Buoyantly, by the end of this list, you will already have a specific model in mind.
We gathered some of the most popular and most bought cheap cameras on the market, so are 100% sure you have the best of the best.
To begin with, we have what could be the best cheap rechargeable digital camera you can find on the market these days; the Sony DSCW830. Sony is widely known to be one of the best camera manufacturers, and for a decent price, you can get a great model like this one.
With 20.1 megapixels, you can be sure that each time you take a picture, you will get every detail of it. For a cheap camera, these are high quality. Additionally, it includes an 8x zoom with decent stabilization. Cameras with this exact price have a lot less zoom power.
This model does not record video on 1080HD quality, but it can still work with 720p HD. For easier manipulation, the video is already formatted to work with editing programs like Final Cut Pro or iMovie. Additionally, you will find that the camera already comes with a few effects for your pictures.
Although great for its price, there are still a few things you should watch for. To begin with, it is made out of plastic, which makes it pretty vulnerable to the environment. Additionally, you can find that there is a considerable amount of noise when you take it to higher ISO speeds.
Things We Appreciate
> 20.1 Megapixels ensure a high photo quality> Video comes already formatted to work with editing programs> X8 zoom with advanced stability
Things We Don't Appreciate
> Plastic construction reduces durability> Increases noise at higher ISO levels
Next on the list, we have the DSCW800, from Sony. As you already know, Sony is a well-known brand that is usually related to some of the best product on the market. Once you are finished with the article, you will know why some people consider this the best point and shoot camera under 100.
To begin with, you should know that for a point-and-shoot camera, this model has a lot of exciting features. To start with, it has a 5x optical zoom with image stabilization. This means that this model could be a great candidate if you are planning on taking photos of any sports events.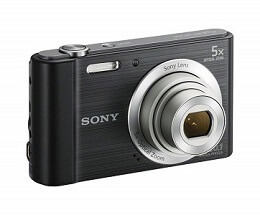 Sony DSCW800/B
This model also has a 20.1 MP resolution sensor, which allows you to take better pictures without much effort. Taking into account that the camera is light and that it has an Easy mode, you can make incredible images with a single click.
But as useful and easy to use this camera can be, there are a few features that are not that good. For example, the video quality is not that good since it does not record on HD. Besides, since it is a point-and-click model, many configuration steps cannot be done by hand (such as focusing or exposure).
Things We Appreciate
> Stabilizer makes this camera great for sports events> Easy to handle > You could take many pictures without any effort
Things We Don't Appreciate
> No HD video recording.> Since it is a point-and-click, you cannot customize any settings.
If you have more budget, may be upto $200 than you can choose a digital camera which is under 200.
If you are looking for a camera to upload your pictures on the internet, this may be the best option since it is by far one of the best cheap cameras for instagram you can find. Not only that, you can be sure that this is a top-notch camera on the whole review.
With a 20.1 MP CCD sensor, this camera can take great pictures on every scenario. Additionally, it counts with an 8x optical zoom (one of the highest on the whole list) which works perfectly with the Vibration Reduction technology. This allows you to take clear pictures from objects far away.
Nikon COOLPIX S3700
But the feature that most people are interested in is the Wi-Fi connection included. This feature allows you to connect the camera to your smartphone, letting you take pictures remotely and authorizing the transfer of photos to the smartphone.
While the picture quality is excellent, you may need to take each picture carefully since it takes a bit of time for the camera to be ready for another photo. Additionally, some customers are not happy with the Portrait mode since the flash makes the pictures to have less colour when they are processed.
Things We Appreciate
> Wi-Fi connection for remote control and easier photo transfer.> VR stabilization reduces noise and blurriness.
Things We Don't Appreciate
> Slow image processing.> The camera does not have much battery life.
This could be known to be the best digital camera under 100 bucks, so you may want to check this item. Compact and easy to use, the Kodak PIXPRO is a great camera that could work correctly under any circumstance. Because of this, it is a popular option for the user that are planning to go on a family trip.
With 16.15 MP and a 1/2.3″ CCD sensor, this camera is excellent to record any special memories. Although it does not take photos or videos on HD definition, you can still make decent pictures that are perfect for social media. The video quality tops at 720p HD.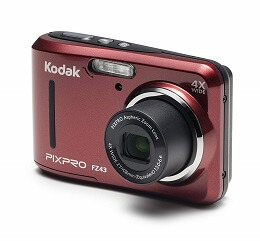 Kodak FZ43
It features an x4 optical zoom, which may not be as high as you would want. This is mostly because the camera itself is not that big, which limits its capacities as well. But if you are zooming in on any picture, you still get the digital stabilization of the camera to reduce blur and noise.
Many users are not fond of the double AA batteries that are required to power up the camera. Mostly because these don't last for long unless you have individual cells designed primarily for this camera. Because of this, you may have to carry around many batteries, so you don't have any problems.
Things We Appreciate
> Slim design perfect for carrying around in your pocket.> Detailed digital stabilization for reducing noise.
Things We Don't Appreciate
> Works with two double AA batteries.
Don't be surprised if you see many Sony models on the review since these are some of the best cameras you can find. On this occasion, we will have a look at the best camera under 100 bucks in the market. We have already reviewed a model that resembles this one, but this comes with a few extras.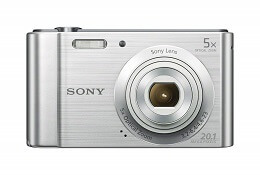 Sony (DSCW800)
This model counts with a Super HAD CCD sensor with 20.1 megapixels inside of it. As you may know, the 20.1 megapixels provide pictures of decent quality, especially when they are combined with another feature such as the x10 digital zoom.
It also has a SteadyShot Image Stabilization system included, which reduces the blur and noise drastically. This indeed can be noted when you try the 360° Panorama Sweep feature, which is a great way to keep a memory of your surroundings.
The 2.7″ LCD monitor provides a clear preview of the images. Besides, there are five different light configurations so that you can view them in every situation. Plus, it also includes Smile Shutter technology, which allows you to frame those beautiful smiles with ease.
Things We Appreciate
> The Steady Shot stabilization reduces blur and noise.> Capture any scenario with the 360° Panorama Sweep.> The 20.1 MP provides a high photo quality.
Things We Don't Appreciate
> The camera won't record 1080 HD videos.
6. Nikon COOLPIX A10
Once you start handling the COOLPIX 10, you will notice how easy it is to feel it. Once you are done with the initial charge, you can be taking photos of whatever you want in a matter of minutes.
When compared to other cameras, you can notice how thin and comfortable to handle this model is. But even with how easy it is to manage, you will still find the pictures pretty average. Since it does not have a considerable number of megapixels in the sensor, the images are not that great.
Nikon COOLPIX A10
You may notice that the power source of this model runs on two AA power cells instead of a rechargeable battery. This could have been done to reduce costs. Regular alkaline batteries can take 200 pictures before running dry, so you may want to buy many sets at once.
We found that many users are not fond of the speed of the camera, especially when it comes to image processing. It is slow compared to other cameras from the same line, especially if its standard quality picture. Apart from this, there are not many other major complaints about this model.
Things We Appreciate
> It is slimmer than other models, which means that it is easier to handle.> Anyone can take pictures in a matter of seconds.
Things We Don't Appreciate
> Slow image processing.> Runs on two AA power cells instead of a rechargeable battery.
Your Guide for Shopping the Best in Budget
Before you decide to buy any specific camera, there are a few things you should check. Buying a camera may seem like a simple task, but once you grab notice of how many different features a camera can have, the buying process becomes more difficult.
How Much Are You Planning To Spend On A Camera?
The first thing you should consider is, why are you purchasing a camera? Are you going on a family trip or are you planning to take photos of a specific scenario?
Depending on this, you can have an idea of how much money you will have to spend on a camera.
The more accessories and features the camera has, the higher the price. So you would have to choose carefully. By any chance, if you aim for a dslr then feel free to pick a dslr under 1000.
Don't worry, since some models have many different features and they are not that expensive. You just have to take your time looking for that model.
Remember, you should ask someone with a little experience on cameras before buying an expensive one. Mostly because if you are going to go for such a significant investment, you want it to be a good investment. Right?
How Vital Is Photo Quality?
If you have decided on a camera that takes professional grade pictures, you may have to spend a few extra bucks.
The resolution and quality of the image taken will depend on the sensor size, and cheap cameras usually have standard sensors. The bigger the sensor, the more money you would have to spend on the camera.
Another aspect of this is the zoom range. If you are going on an amazing vacation, you may not need that much zoom range, but if you are going to a sports event, a more significant zoom range will be helpful.
Cheap cameras usually have a decent amount of zoom, and when you add this to an autofocus system, you get incredible pictures.
How Outstanding Is Video Quality?
When purchasing a cheap camera, video quality is more of an extra. Maybe you want to record a particular event with decent video quality. The thing is, the better the video quality, the bigger and more expensive the camera will be. But think about it, are you really going to record that much?
If the answer is yes, and you are still looking for a budget-friendly camera, there are a few options.
Just remember that video takes much more space on the camera memory than pictures, so you may want to get a camera with a bigger memory space if you are going to record something.
Does It Include Any Extra Accessories?
To finish up, you should check if the model you are interested in has any extra accessories. Any additional accessories will allow you to take better pictures or will help you keep the camera in the best condition.
Even if the camera does not include any accessories, you should consider buying a case where you can store the camera. Mostly because you won't have the camera in your hands at all times, and you may want a safe place to save it.
Proper Usage and Care for Your Camera
If you want your camera to last for a long time, there are a few things you should care about, especially when you are not using it. They are in most cases a reliable piece of hardware if you take the necessary measures.
Therefore, here are some useful tips that could help you extend the overall useful life of a camera.
Take Special Care of The Lenses
The lens may be the most vulnerable part of a camera as you can imagine. They can get scratched easily, which will affect the quality of your pictures.
First, you should keep your bare hands off the lens, mainly any oils or residue may be left on them. If you clean it with a microfiber cloth, there should be no problem, but if you neglect this, there could be permanent damage to the lens.
2. Don't Aim at The Sun
It is very uncomfortable to look at the sun in broad daylight. Imagine seeing the sun from the same position but through a magnifying glass? It would undoubtedly cause some damage.
This is what happens to the camera sensor when you aim a camera at the sun, so you should avoid doing this.
3. Keep The Camera Away from Water or Sand
If sand particles get inside of the camera, they can cause significant problems. So, if you are going to the beach or somewhere where dirt or sand is everywhere, make sure that none of it falls on the camera.
The same thing applies for water, but some cameras are specially designed to work under or near water.
4. Make Sure That The Camera Is Stored Correctly
Every camera should come with a storage case. You should try to save the camera inside these individual cases whenever you are not using them, especially in the long run.
Some Commonly Asked Queries
We can imagine how many questions are on your mind after this review. Nonetheless, here are some frequently asked questions that you may find helpful. If you are still left with a significant amount of problems, try out the comment section!
What can I do if the lens of my camera gets scratched?
A: The problem with cheap cameras is that they are more fragile, which can lead to scratches lens or displays. Don't worry, since there are cases in which a minor scratch does not affect the quality of the photo. If the scratch does affect the quality of the picture, you may want to take it to a professional since there are cases in which they can be repaired.
Q: Is the Nikon Coolpix water resistant?
A: While most Coolpix models are actually water resistant, there can be some exceptions. The specific model on this list is not water resistant for example. Make sure you read each of the specifications carefully before you submerge the camera.
Q: Why should I buy a camera instead of using the camera on my smartphone?
A: This is a common question, and to be honest there are a few good reasons for why you would prefer a camera instead of a smartphone.
The durability of a camera is much higher than that of some high-end smartphones. Some models are designed to endure a fall of several meters, which your smartphone's screen surely won't. Plus, you won't use the memory space on your phone.
Final Words Before We Let You Go
If you are looking for the best camera under 100 bucks, you may need to see a great variety of options, not only different variants of a model but different brands as well.
And, we hope you found the ideal camera for you in this article. After all, we gathered the best and most popular cheap cameras on the list, but it would be best if you found a camera that best suits your needs.
If you think we missed something, please let us know!