Best Dslr Camera Under 1000 for 2019: The Message to the Real Buyers.
The big day has come and gone. It is time to pull out the camera and relive all the wonderful memories of the day. You thought you got a good deal by buying the best dslr camera under 1000. You excitedly switch it on. Time to see how it went down, or not?
As you peruse through, you realize that you have missed out on capturing most of the memories. Why? Because your camera was not the best. The day is gone and so are the memories. That is why we have compiled a top list for your future memories.
Top 10 best dslr under 1000
1. Nikon D5500 With Dual Lens Kit (18-55mm VR & 70-300mm Lens)
When talking about best digital cameras under 1000 with high performance, the Nikon D5500 is a player in this field. Loaded with features the camera gives clear, crisp images. It is compact and easy to carry around for the excursion you have been dying to go on.
Durable compact design
The camera is made using a unique design that is known as single shell. This means that the structure of the body is made in a single unit. Its design makes it compact and light in weight. The structure also makes the camera extremely durable and easier to grip.
Rotating touchscreen Display
The camera has a 3.2" LCD that can be rotated to a maximum of 270 degrees. It is therefore flexible. You can choose to take a selfie or even set the camera on a tripod. Whatever you chose to do you can be use it without having to overexert your neck.
Wi-Fi connectivity
The camera comes with a built-in Wi-Fi technology which makes it easy for you to share the images captured easily.
Vari-angle shooting
Sometimes you may want to shoot a scene from an angle that cannot be easily attained. All you have to do is point your camera at the desired angle then flip your LCD viewer. Then all you have to do is just touch the display at the point you want your shot.
Pros
check

Compact and light in weight.

check

Comes with inbuilt Wi-Fi.

check

Has a long battery life.

check

Good focus tracking.
Cons
Tiny buttons are challenging to use.

Does not have a GPS receiver.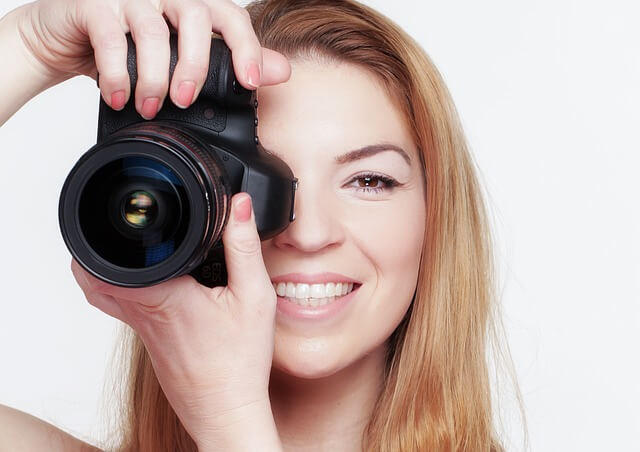 2. Nikon D5300 with 18-55mm lens
Nikon have done a good job with this camera. It is able to capture some of the most exquisite images. It has Wi-Fi for easy transfer of images. Its ability to capture both still and moving pictures precisely makes it a camera worth acquiring.
Crisp images
The Nikon D5300 captures crisp and timely images. The 24.2-megapixel camera allows all aspects of the image to be fully captured and the output magnificent. The quality NIKKOR lens also gives you an opportunity you to zoom in or out of your images. And you don't even have to worry about losing the quality.
Image editing
This feature allows you to edit the image to your liking for those times when the pictures are not satisfactory. You can easily crop the shots, filter and change the lighting. You can also put on other effects as soon as you capture the shots then save them.
Still and video shooting​​​​
The camera is enabled to shoot still images which are crisp and clear. There are several options for the still capture including interval, time lapse and timed shooting. With the flip of a button, the camera can also record video in HD giving you high-quality motion pictures.
Ergonomic /Compact design
The camera is made in a mono-frame design making it compact and easy to use. Its small body size makes it very portable. Its ergonomic design ensures that all the buttons and dials have been placed for comfortable reach when using. This makes the camera easy to use even for inexperienced photographers.
Pros
check

Wi-Fi compatible with iPhone® and Android devices

check

Detailed quality images by resolution sensor.

check

Fn button can be customized.

check

High-quality video resolution at 1080/60p.
Cons
check

Live view has too much lag when magnified.

check

No master function for inbuilt flash.
3. Canon EOS REBEL T7i body with Awesome Kits Option!
There is a lot that can be said about this camera from its fully loaded features to the handsome design. It is best DSLR camera under 1000 for video with professional features and convenience of beginner camera.
Feature Assistant
Navigating around the use of this camera has been made very easy. The camera offers a user-friendly interface where all the features of the camera are explained. Easy to comprehend graphics are used giving you the opportunity to explore the different features of the camera.
Quick Autofocus
The camera is equipped with the latest technology for auto focusing. This is because it has a twin Pixel CMOS AF, which allows the camera to focus on an object at a speed of 0.03 sec. This, combined with the phase detection, makes offers you fast and accurate auto focus of both stationary and moving objects.
Connectivity
The camera is inbuilt with wireless connectivity that allows you to seamlessly and easily transfer pictures and videos. The images can be transferred to other devices and uploaded on the internet. The wireless connectivity includes Wi-Fi, Bluetooth and NFC technology3. However, the devices have to be compatible to allow the transfer.
Vari-Angle Screen
The camera is made with a highly sensitive LCD touchscreen that can be pivoted for your convenience. You can use it to capture images from angles you probably would not be able to reach. You only need to pivot the LCD screen, focus on the angle you want and snap away.
Pros
check

Lightweight and portable.

check

Long battery life.

check

Adjustable, touch LCD screen.

check

Can be remotely controlled using a smartphone.
Cons
Does not have image stabilization feature.
For your information, after purchasing this body you have to also buy a kit lens with it. Cause the lens is not included. But it's ok. Cause, having an extra lens won't cross your budget. Yes! You can buy a lens and still you'll have the best camera for under 1000.
4. Nikon D7200 Body Only : Featured with 51 Point Autofocus System!
The Nikon D7200 DX camera is another best dslr under 1000 which is great for high action events because of its high capacity. It is able to accommodate large amounts of information capture multiple shots per second. You are assured of getting the best shots for every event.
Dual memory slots
To deal with the challenge of storage space the camera is made with twin slots for memory card insertion. This gives you double the capacity to store as twice as many images and videos. This is unlike most of the cameras in the market. It is preferable for professional photography.
Shutter speeds
The camera enables you to capture high-speed events as they happen without missing any details. This is because of the high-speed frame rate of 6 frames per second that the camera can do. Its high speed buffering also enables this camera to take approximately 100 continuous shots in JPEG/fine/large.
Great focus
Be it day or night, this cameras ability to capture crisp images is great. The cameras AF system and autofocus sensor accurately detects objects even under very low light. The D7200 has 51 high-density focus points with 15 cross type which offer faster and accurate focusing.
Extended battery life
The camera uses an EN-EL15 battery which provides extended use of the camera compared to other batteries in the market. It is averaged to give a life of over 1100 shots compared to the average battery life of 884 shots for DSLR cameras.
Pros
check

Dual memory/storage ports.

check

Camera is weatherproof.

check

Allows for time-lapse recording.

check

Inbuilt NFC and Wi-Fi.
Cons
Just so you know, you got to purchase an extra lens with it. Some people don't feel good while they came to know that information. They think it costs extra money. But that's not true.
Because, every person has different choices. So, attaching a lens by default may not be useful to a guy who is looking for a different lens. In that case, the best way is to leave the option to the buyer hand.
As a result a buyer who have bought the under 1000 dollar, can pick the perfect lens for his/her camera.
5. Pentax K-3 : ISO upto 51,200
This camera is made for the high action performance because of its durable nature. Also its ability to capture incredible multiple shots per second is a plus. It is arguably among the best DSLR camera under 1000 with 24MP to deliver sharp images.
Accurate exposure
The camera utilizes the latest technology in image capturing called the "Real Time Scene Analysis System". The technology has a 86,000 light measuring beam that enhances accuracy of exposure which ensure better pictures. It also balances light appropriately while focusing on the images for the best image capture.
High action capture
The K-3 is able to capture high action better than most cameras today. Its 8.3 frames per second continuous shooting makes its ability friendly for professionals. It is capable of producing crisp images due to its high end 24-megapixel resolution.
Fully sealed
The camera is fully sealed making it able to keep out water, dust, snow sand and any kind of moisture. This is because of the 92 special seals fitted in different areas of the camera. You no longer have to worry about your camera come rain or shine as you capture your wonderful memories.
Professional video output
This camera has an enhanced video capture mechanism which uses the High definition movie capture. Together with an external microphone connection, you are assured that your video recording will have sharp images and clear sound. The recording volume can be easily regulated during recording.
Pros
check

High-quality video and images.

check

Fast capture 8.3 frames per second.

check

Big 3.2-inch LCD with 100% viewfinder.
Cons
Battery life below average.
6. Canon EOS 77D Body : Superb For Videoshoot
This camera is made for professional capture with its high-speed capture rate. Its HDR video recording and an external mic for better sound make it a good video camera.
Durable make
The camera's construction is made to ensure that it will last a long time without wear and tear. The chassis is made up of an aluminum-alloy for durability. The polycarbonate and glass fiber finish give the camera a strong handsome finish. All panels are tightly secured making the camera extremely durable.
Ergonomic design
The technology used in the design of the camera comfortably fit in the palm of the hand. On the back side of the camera, there is a rubberized comfortable thumb rest. Also, the fingers are comfortably able to reach the buttons and controls without straining or shifting position.
Seamless connectivity
Wireless connectivity ensures faster and convenient transfer of images and videos. To that end, the camera has been Wi-Fi and Bluetooth enabled and is also equipped with the NFC technology. The camera also has a free downloadable app used for iOS and Android devices to allow the seamless connectivity.
Adjustable screen
The screen is adjustable and provides for the flexibility of use of the camera. You can comfortably take a shot from any angle. This is because the screen can be rotated to an angle of 270 degrees. The screen is touch sensitive and allows for menu navigation.
Pros
check

Records HDR and time-lapse videos.

check

Excellent LCD touchscreen.

check

Double control dials for easier control.

check

Microphone port for clear audio when recording.
Cons
Does not have a socket for headphones.
7. Canon EOS 60D 18 MP CMOS Digital SLR Camera Body Only
For the camera lover with an eye for detail, the Canon EOS 60D is perfect for you. Its excellent features and the adjustable LCD screen make it a perfect fit for you.
Articulated screen
The camera features a fully rotatable screen which offers convenience when shooting. You can place the camera at any angle yet monitor the pictures from a comfortable angle by rotating the screen. This also offers flexibility when shooting at difficult angles.
Picture Manipulation
The camera has a wide range of application options that enable you to add color variations to your pictures for different scenes. The changes can be viewed live via the LCD screen. You can easily adjust the changes as you wish before taking the pictures.
Powerful Screen
The big LCD screen is fitted with thin film transmitters which enhance the image quality and the color display. The screen offers a full 100% coverage along with a viewing angle of 160%. The screen also allows for images to be viewed without the bother of annoying reflections.
Lens compatibility
Sometimes you may want to get better shots according to the setting and may need to change your lenses. You need not worry. This camera is compatible with the wide range canon lenses available. This means you are able to do a wide range of professional photography.
Pros
check

Wide LCD rotatable screen.

check

Microphone socket for an external microphone.

check

Reliable long battery life.

check

Very good image quality.
Cons
White balance distorted under artificial light.

Plastic body not as durable.

Has the tendency to overexpose sometimes.
8. Pentax K-70 Body Only (Black) : Great for Dustproof and Weather-resistant!
This is a bit high price but it's a powerful camera. Loaded with wonderful features it will make capturing your favorite memories a memorable affair.
Weatherproof
One of the unique features of the camera is its weatherproof abilities. The K-70 is fitted with seals that ensure that water, moisture, sand and other elements are not able to penetrate into the camera. It can be used in any outdoor setting without worrying that the camera will get damaged.
Clarity
The camera has an option which allows you to make your photos and videos richer by enhancing clarity. The camera uses spatial frequencies while adding texture for those sharp images. The night vision feature also allows you to take wonderful images even under low light conditions.
Wi-Fi enabled
The state of the art camera has Wi-Fi and NFC module conveniently built in. This easily allows you to transfer images to other devices seamlessly. Additionally, these features allow you to control the operation of your camera even from a distance. Sharing is as simple as ABC.
Control Panel
The camera has a panel that can be used to customize the image capture according to your preferences. It is fitted with different function buttons with presets that you can use to set the camera.
Pros
check

Comes with selfie button for self-capture.

check

Durable weather and dust resistant body.

check

Night vision settings.

check

Optical viewfinder with 100% frame coverage.
Cons
Short battery life.

Challenging subject tracking.

A bit weighty to carry around.
9.

Pentax K-S2 20MP DSLR Kit w/ 18-50mm WR (Black)
Sometimes you may want to be outdoors to capture the rainstorm but you are worried about your camera. Well, you need not worry about falling into temptation as this weatherproof camera will weather the weather without a jiffy.
Weather Friendly
The camera is a friend of any kind of weather because come rain or sun, dust or sand. This is because of the seals that repel any water, moisture or sand from entering and destroying the camera. You no longer have to worry about using your camera whatever the weather may be.
Retractable Lens
The camera is fitted with a standard lens which is easily retractable. The ultra-thin retractable lens is also sealed to inhibit the vulgarities of the weather. You can comfortably capture images near or far and get better close-ups with your K-S2 without having to worry about the weather.
Enhanced Images
This best dslr under 1000, offers you the advantage of taking crisp clear images without too much effort. This is because of its distinct clarity enhancement that allows you to capture even seemingly continuous horizons perfectly. The HDR advanced settings give you higher texture in every shot you take.
Inbuilt Connectivity
The K-S2 is in fitted with the latest technologies in terms of connectivity. It has Wi-Fi and NFC which offer connectivity and allow you to easily transfer and view images on other devices. The camera has a dedicated app available for Android and iOS devices.
Pros
check

The camera has selfie mode.

check

Sealed weatherproof camera.

check

Shake reduction body.

check

High-quality video images.
Cons
The lens is too small.

DSLR has a sluggish startup.

Has limited movie options.
Final Discussion
Getting a reliable camera is a good way to ensure that the memories you want to preserve are well kept. Needless to say, cameras are fast gaining popularity in the American market due to their ever-improving features.
Statistics indicate that digital camera ownership in American households currently stands at 63%. That is more than half the population of America. By 2017 Americans were spending at least 1.94 billion dollars in the sale of digital cameras.
So it is time to get in the game and get yourself a reliable camera that will enable you to capture the most important moments of your life without worrying about missing out on anything. You don't have to spend an arm and a leg to get a reliable camera.
If you are looking for a camera that has more than the ordinary features, we have a collection of those. You can get a digital single-lens reflex camera with good battery life and excellent capabilities for less than $1,000 easily in the market.
We have however compiled a list of the most popular cameras and you have ample choice to enable you to get the best digital camera under 1000. Our cameras offer not only durability but more features that some of the cheaper models in the market. We only deal with the most reputable brands so you can be guaranteed of best dslr Camera Under 1000.
The cameras are easy to use and so you need not worry about that. It doesn't matter what the time or the occasion may be, we have a camera that will give you great pictures even in low light conditions. If you are doing still photography, we have a camera that can focus and take great pictures.
For those taking high action shots like sports events, we have a camera with the best shutter speeds and most frame shots per second. As for the motion picture lover, we have a camera that will give you excellent picture and sound to meet your needs. Our cameras offer the best. So go on and invest in one of our cameras. Quality is guaranteed.